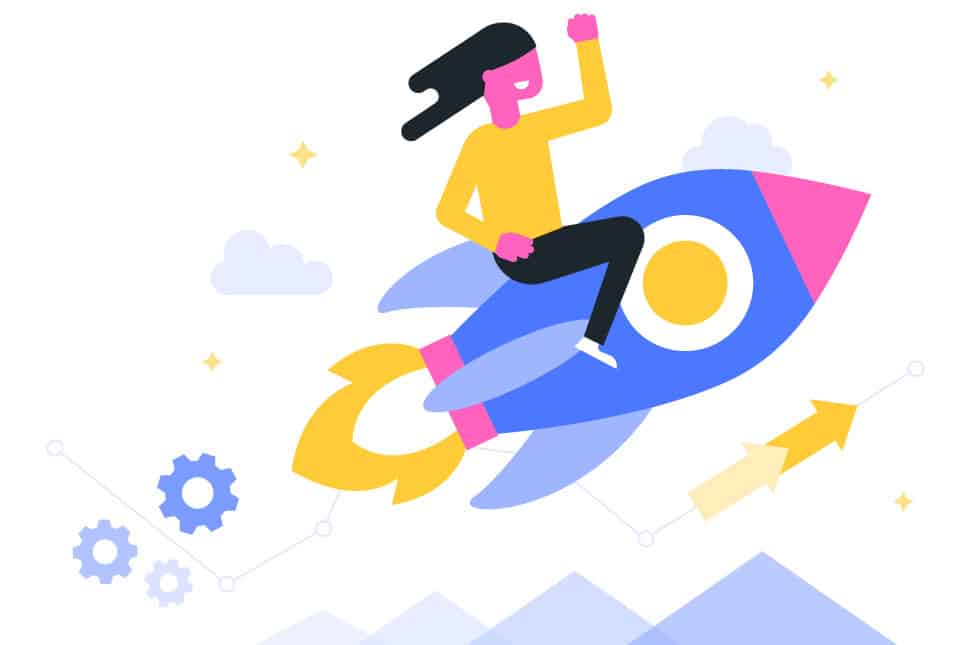 You may have already know how to add Google My Business listing on Google Knowledge Panel from our previous post, Is Google Plus Really Dead?
Now, are are going to guide you on how you can optimize it to make your listing stand out from your competitors.
Here are the 7 to do items to optimized your listing on Google My Business:
1) Add 3 to 5 Categories
By default, when you first create a new listing on Google My Business, Google only allow you to put 1 primary category and you can add the rest of the categories at a later stage. Many of us forgot to add more categories when our listing is verified.
It is recommended by Google's team that you have about 3 to 5 categories. This actually helps Google's algorithm to understand your business more and whether to show them or not when user searches for a particular product or services on search engine result page (SERP). Therefore, it is important for you to choose categories that best describe your business.
2) Update Your Opening Hours & Special Opening Hours
Opening hours is an important aspect in Google Knowledge Panel and it is important to keep your opening hours updated when there are changes. It is also important to update your opening hours during festive season to avoid wrong information being relayed to your potential customers. For example, you may already know the public holidays date for the year ahead, so it is ideal for you to amend your opening hours or marked them as "Closed" if you are not open during the holidays.
On days where your company will be closed for special occassions such as Team Bonding, Company's Retreat or etc, it is also best to update your opening hours in Google My Business so that your customers are well-informed. It is ideal to update it at least 1 week before the event day as Google Knowledge Panel will show your opening hours for the next 7 days.
3) Upload Photos
Google My Business grouped your photos in 10 different categories to make it easy for you to populate the medias in your account.
Overview


An overview will show you all of your photos that you have uploaded onto Google My Business.

By Owner


This tab show photos that you (as an owner) have uploaded onto Google My Business.

By Customer


This tab show photos that your customers have uploaded onto your Google My Business. Yes, customers can upload a photo for you.

360


If you have a virtual tour of your business that is compatible with Google, it will appear in this tab.

Video


This tab will show videos that you have uploaded onto your Google My Business.

Interior


You can upload photos of your interior to show your customer of your business space.

Exterior


Uploading photos of your exterior can help customer to easily find your listing and to ensure that they are in the correct place or building.

At Work


This can be photos of your employees at work; be it at their desk, in a meeting, or even when serving customers.

Team


If you have a team or department photos, you can upload it in this category.

Identity


This tab will showcase your logo.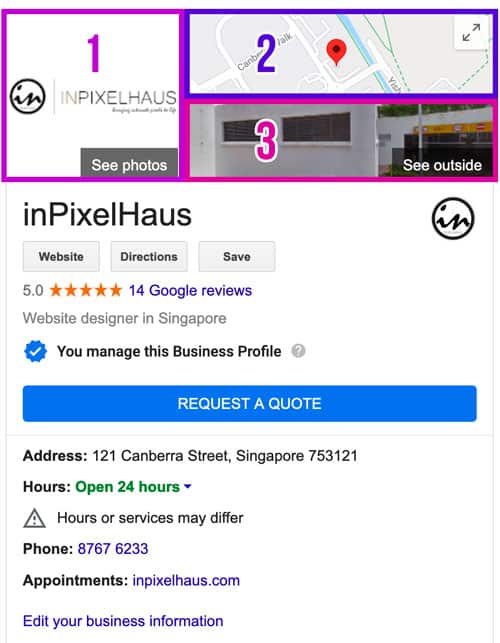 Now where will all these photos be shown on your Google My Business? When a user visit your profile, they can see all the uploaded photos in the "Photos" menu.
As for your Google Knowledge Panel, only Identity and Exterior will be displayed.
1: Your Identity will take up a square space on the left column.
2: The map where you pin your location will be shown on the upper right column.
3: Photo of your Exterior will be shown on the lower right column.
4) Pin Your Listing on Google Map Accurately
As we know from the previous pointer that your pin on the map will be shown on Google Knowledge Panel, it is best that you pin it accurately so that users who would like to visit your business will not have difficulties finding it.
Can you imagine, when you have a customer who want to dine at your restaurant, couldn't find them when you incorrectly pin it on the map. The customer will eventually go to any nearby restaurants (your competitor), and you lose a customer just by not pinning it correctly on Google Maps. In fact, you are giving customers away to your competitors, which is the last thing you would want to do as a business owner.
5) Actively Answer Questions
Customers may ask you questions on Google My Business and these questions are public, which mean it can be seen by anyone on your Google Knowledge Panel or Google My Business account. Therefore, it is best to answer each and everyone of it (even if it is a repeated question posted by another customer) in a timely manner. This shows that you care about your customers and by answering their questions instantly, you are telling them that you are an active business listing.
This platform can also turn into a lead generating channel as users are constantly on a search for a product and services. So when you engage with your customers, and answer them instantly, it creates credibility about your business, which may lead to sales. In this digital world, every second counts and for every second missed, your customers are searching away from you.
6) Actively Post on Google My Business
You should treat your Google My Business just like any other social platform, where you would post and update your friends and fans on what is going on with your life. Similarly, with Google My Business, you should post as frequent as your other social platforms.
Google My Business split your post into 4 categories:
Add Offer


If you are running an offer, you can use this option. Such an offer can be like such; 20% OFF in Store or Online.
You can add photos or videos, offer title, offer start, offer end date, and you can even specify it down to time. Your offer will be shown on Google Knowledge Panel and Google My Business during the specified date and time. After this, it will disappear from your account.

Add Update


You can use this option if you have any news regarding your business, such as winning an award or even to share your new blog post. There will be an option for you to add a button, which can link your users to your blog post. This update will only last for 7 days and will disappear from your Google Knowledge Panel after 7 days. However, users can still view your post when they visit your profile on Google My Business.

Add Event


If you are organising an event or seminar, you can use this option to input the details of your event or seminar. There will be options for you to add a start date, end date, and even time. If you have a registration page hosted on a website, you can also add a button to link it. Similar to offer, it will be shown on Google Knowledge Panel and Google My Business during the specified date and time. After this, it will disappear from your account.
Add Product
You can showcase your products by creating a post on it. This will appear as a separate section on both Google Knowledge Panel and Google My Business. This will stay permanently, so you can choose to add more or remove it in the future.
There is another option for services but it will not be under a post. It is basically based on the categories that you have defined for your business in Part 1. So if you have multiple categories, which is recommended, you can separate your services within the various categories. For example, we have these categories – Web Designer, Graphic Designer, Marketing Agency, and Web Hosting Company. We would place our services like such in each category:
Web Designer

Graphic Designer

Marketing Agency

Web Hosting Company
7) Get Reviews from Customers
Reviews from customers help your business to improve, be it a good or bad reviews. The voices of your customers can now be heard if they are satisfied or not satisfied with your product or services. This is another form of "word-of-mouth" marketing where users read about other customers' experiences with your business. For example, if you are looking for a product or services, would you got for those that customers rate as 5-star or 2-star? Definitely 5-star right because you can tell that customers of that business had a better experience that than of a 2-star business.
However, we also noticed businesses with low star rating feel demoralise. Not to worry, there are many ways you can improve your ratings on Google My Business. You can send an Electronic Direct Mail (EDM) to your customers who had recently engaged with your business and request for a review on Google My Business.
Did you also know that reviews does help in your Search Engine Optimisation (SEO) ranking? Therefore, it is best for you to get as many reviews as possible to outrank your competitors.