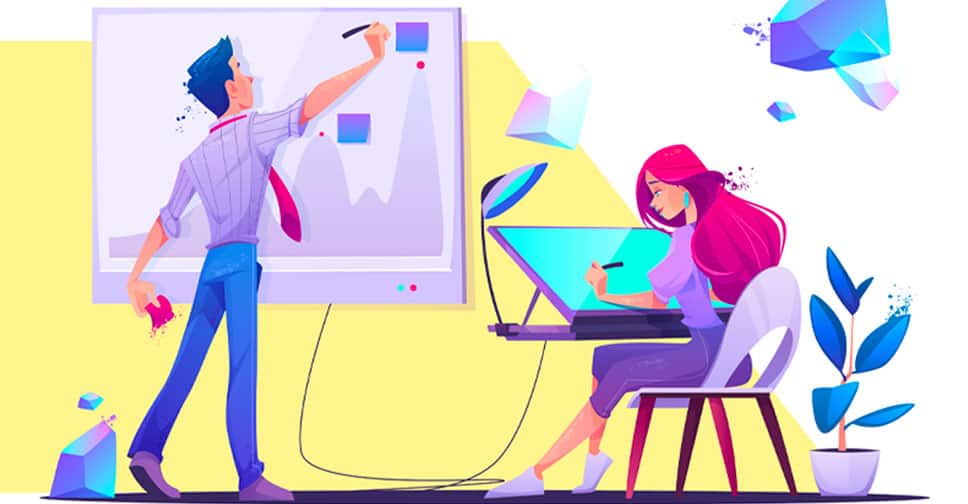 It is best to know what you want for your website before you meet with your web designer or web developer. Having a clear vision of your website will make your first meet up with your web designer more fruitful. For a start, you can shortlist a few websites that you admire and show it to your web designer. From there, your web designer will be able to guide you through the design and development process.
Let's list down a few of the top few questions you should ask your web designer when you first meet them.
Question 1: Can I See Your Portfolio?
You may have already seen the designer's work before meeting them and if that is the reason for setting up the meeting (assuming you fancy their designs), then this questions is no longer required. However, if you have not seen any of their work, it is best to see them first to understand what the designer is capable of creating. Different designers have different style and it is best to find one that suit your needs to avoid any conflict on design at a later stage.
Question 2: Does Your Quote Include Web Hosting?
It is common that web designers bundle their pricing with web hosting for the first year. Do check with your web designer if it is included so you don't have to worry about getting a web hosting when your designer is setting up your website.
There are a few criterias to check if the web hosting they provided is credible. There are thousands of web hosting companies available and choosing the right one is crucial to having a stable website.
Support
It is important to know what kind of support you'll be getting from the web hosting company and will your designer be assisting whenever there are issues with the web hosting even after the handover?
SSL Certificate
SSL certificates are important for eCommerce websites back in the days but now, all websites are recommended to have SSL certicate. This is because Google's algorithm will rank you better if you have a SSL certificate, which makes your connection to users' device more secured. SSL certificate can be expensive if you purchase it separately and some web hosting comes with free SSL certificate.
Latest Firmware
Technology changes everyday and it is important to get a web hosting company that supports the latest firmware updates such as HTTP/2 and PHP 7.3. This is because, these latest firmware will help to improve your website's performance in terms of speed and optimisation.
Database
Not all web hosting comes with a free database. Do ask your web designer if the web hosting comes with database, and if so, how many database are given. Usually 1 database is sufficient, but in any case you need more than that, do consult your web designer for advice.
Question 3: Do You Provide Content Delivery Network?
Content Delivery Network or CDN will make your website load faster based on the users' location. For instance, your server is located in Singapore and you have a user who is at Japan, CDN will allow the user in Japan to view your content as quickly as in Singapore. It is important to have this if you have an eCommerce website and when you ship your products worldwide.
Question 4: Do You Provide Emails?
Having an email account that is associated with your domain name will make you look professional when presenting your name card  to your potential customers or stakeholders, with [email protected] shown on it. Some designers don't provide email services (but no harm asking for it) as it is common that you subscribe to a third-party email client such as Gmail.
However, here at inPixelHaus, we provide unlimited email accounts with any purchase of our web hosting plan.
Question 5: Do You Include Domain Name?
A website without a domain name will just be an IP Address (series of numbers – 111.111.111.1111) and you have to attach a domain name to it to make it easier for users to remember you. Words are easier for human to remember as compared to numbers, right?
Web designers usually bundle domain name, just like how they would bundle web hosting. But it is always better to be sure and ask if domain name is included in their quotation.
If it is not included, you can purchase them on your own or ask your web designer for assistance. There are alot of companies that sells domain names and don't be tricked when purchasing it. Often at times, companies will charge you a low cost for domain name for the first year and on the second year, they will spike up the price when you need to renew your domain name.
Another pointer to note is to make sure the company you chose allow you to change the "Name Servers" and "Records" easily. We experienced some companies that doesn't allow user to amend anything, making it tedious whenever you need to change the records, or even when you want to transfer your domain to another company.
Here at inPixelHaus, for every web design and web development, we give 2 years free domain name.
Question 6: Do You Provide Maintenance?
Website maintenance is another important aspect in web design and web development. There are web designers who provide free website maintenance, or as you know it as warranty, for a certain period of time, usually 3 months. When designer hand over the completed website to you, you are responsible for taking care of the website and any issues beyond the warranty period, will be chargeable by the web designer.
If you are not familiar with managing a website, you will find it difficult to learn and 3 months may not be enough. Therefore, at inPixelHaus, we understand the difficulties users are facing and we will always guide our customers when they are having difficulties with the website at no additional cost. Our website maintenance charges is for those who need additional hand such as to upload contents and to create a new page or even a landing page.
We do provide a lifetime technical support with every web development project, just in case your website break due to software and firmware issues, we will assist to rectify it for you at no additional cost. This is to ensure that you website will always be online.
Question 7: What Other Features Do You Recommend?
Technology are evolving every day and web designer are up to date with the latest technological trends. They work with websites almost every day and will be able to provide you with concrete recommendations on what is trending.
This is useful to know so that you don't lose out to your competitors and always be ahead of your competitors in terms of website technology and trends.